Dems, Tancredo woo NAACP



Bridging the rich-poor gap was the consensus topic. Colorado's Tom Tancredo was the lone Republican.

Nine White House hopefuls found an audience receptive to change Thursday, with several telling the 98th annual NAACP convention that America needs to dissolve the disparities between rich and poor.

Eight Democratic presidential candidates and a lone Republican,

Rep. Tom Tancredo

of Colorado, made Detroit the epicenter of presidential politics on the final day of the group's annual convention.

Illinois

Sen. Barack Obama

, an African-American appearing before an African-American crowd in the nation's most African-American city, drew the loudest applause by far.

Obama said that while government cannot guarantee success, it is "a betrayal of our ideals" for people to be held back from opportunity because of their skin color or their economic class.

"If you're poor in this country, that's hazardous to your health," Obama said. "If you're poor and a minority, that's downright lethal."

Nine of the 10 Republican presidential hopefuls took a pass on the event. Some in the audience said their absence was a snub and disrespectful.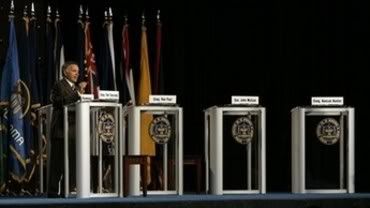 "The NAACP is a nonpartisan organization, but

President Bush

and the Republican Party have continuously disrespected this organization," said

Ruthie Stevenson

of Mount Clemens.

Several GOP candidates cited scheduling conflicts.Several of the eight Democrats said the division between the classes has become more pronounced under Bush.

Sen. Hillary Rodham Clinton

of New York talked about the civil rights progress led by Rosa Parks and others.

"In the last 6 1/2 years, that march has been stalled because we have a president who doesn't see what you and I see," she said.

Former North Carolina

Sen. John Edwards

said there are public schools and health care systems for the affluent and different systems for everybody else.

"Doing something about the two Americas is the cause of my life," Edwards said. "We need a movement, brothers and sisters."

The other Democratic candidates were

Sens. Christopher Dodd

of Connecticut,

Joe Biden

of Delaware, former

Sen. Mike Gravel

of Alaska,

Rep. Dennis Kucinich

of Ohio and New Mexico

Gov. Bill Richardson

.

It was not a debate format and most of the Democrats voiced similar positions on issues.

They agreed the country needs universal health care and that U.S. troops should get out of Iraq. They called for tougher enforcement of worker rights and environmental quality provisions of world trade agreements. And they pushed for more thorough background checks to help curb gun violence and greater equality of opportunity in education.