King of clay: Nadal beats Federer in French final


By Steven Wine




Spain's

Rafael Nadal

celebrates after defeating Switzerland's

Roger Federer

, during their final match of the French Open tennis tournament, at the Roland Garros stadium, in Paris, Sunday, June 10, 2007. Nadal won 6-3, 4-6, 6-3, 6-4.

Roger Federer's bid to complete a career Grand Slam was foiled again Sunday by nemesis Rafael Nadal at the French Open.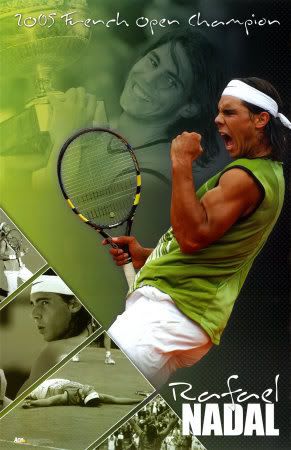 Nadal earned his third Roland Garros title in a row, beating Federer 6-3, 4-6, 6-3, 6-4 in a final in which the Spaniard lost serve only once.

For the third consecutive year in Paris, the top-ranked Federer sought to become the sixth man to win all four Grand Slam events. Nadal defeated him in the semifinals in 2005 and in the final last year.

The latest loss also spoiled Federer's bid to win a fourth consecutive major title, something last done by

Rod Laver

in 1969.

With a sequence of brilliant shots, Federer won many of the highlight-reel rallies, but squandered chances doomed him. He failed to convert his first 11 break-point chances, putting pressure on his own serve by repeatedly allowing Nadal to hold.

Nadal saved 16 of 17 break points and broke serve four times in 10 chances. He had only 27 unforced errors to 59 for Federer.

Rooting for history, the crowd was pro-Federer and occasionally chanted "Ro-ger! Ro-ger!" But when Federer's final shot landed long, fans roared for Nadal as he collapsed on his back to the clay in jubilation.

For Federer, the story was all too familiar: Since the beginning of 2005, he's 4-7 against Nadal and 199-7 against everyone else. He fell to 1-6 lifetime against Nadal on clay.

The second-ranked Nadal made a little history of his own, becoming the second man since 1914 to win the tournament three consecutive times, and the first since Bjorn Borg in 1978-81. Still only 21, Nadal improved to 21-0 at Roland Garros and 34-0 in best-of-five-set matches on clay.

On the warmest day of the tournament, spectators in the sun were fanning themselves from the outset, and both players began to look weary in the pivotal third set. But the dogged Nadal kept chasing down shots all over the court, sprinting after one drop shot and flicking a winner nearly three hours in the match.

Nadal relentlessly probed his opponent's weaker side, sometimes forcing Federer to hit half a dozen backhands in a rally. But Federer's usually formidable forehand may have hurt him more -- the shot misfired several times on potential putaways and sent them sailing long.




Federer repeatedly had chances to take command. In the first set Nadal fell behind on his serve 15-40 twice and love-40 once, but each time the Spaniard rallied to hold.

Federer took a 3-2 lead but became dispirited when he failed to convert five break points in the next game, and Nadal won five consecutive games.

Federer broke for the only time to go ahead 4-3 lead in the second set. Even then he needed five set-point opportunities before he closed out the set to pull even.

It was the only set Nadal lost in the tournament, and he bounced back quickly, breaking in the second game of the third set en route to a 3-0 lead. Nadal broke again for a 2-1 lead in the fourth set when Federer dumped a weary backhand in the net, and the Spaniard never wavered from there.

In the final two sets, Nadal faced only one break point, saving it with a big forehand.




He won $1.34 million, while Federer received $670,000 -- small consolation for a player who has dominated the other major events, winning Wimbledon four times and the U.S. Open and Australian Open three times each, all since 2003.