Poachers kill one of last two white rhinos in Zambia
Poachers have shot the last two white rhinos in Zambia, killing one and wounding the other, in a night operation at the Mosi-Oa-Tunya national park in Livingstone, an official said Tuesday.

The shooting of the two endangered animals in a heavily-guarded zoological park near Victoria Falls in Zambia's tourist resort town of Livingstone took place last week.

"I can confirm that one of the white rhinos was shot dead by suspected poachers. The other one was wounded and is undergoing treatment," said

Maureen Mwape

, spokesperson of the Zambia Wildlife Authority (ZAWA), which would be investigating the shooting.

The dead female rhino's horn was apparently removed.

Zambia's white rhinos were all killed by poachers but the government managed to acquire six from South Africa in 1993, of which the injured male is the last to survive.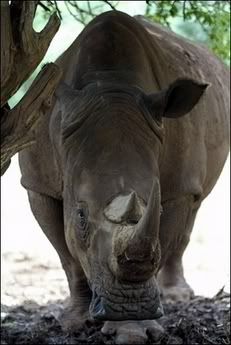 Ordinarily, I'd say, "At least they weren't
Black rhinos
," but honestly, America, this shit is just fucked up. Animals don't need to be killed needlessly either. I understand that they have to make a living, too, but it would be nice if poachers could display a little more humanity.